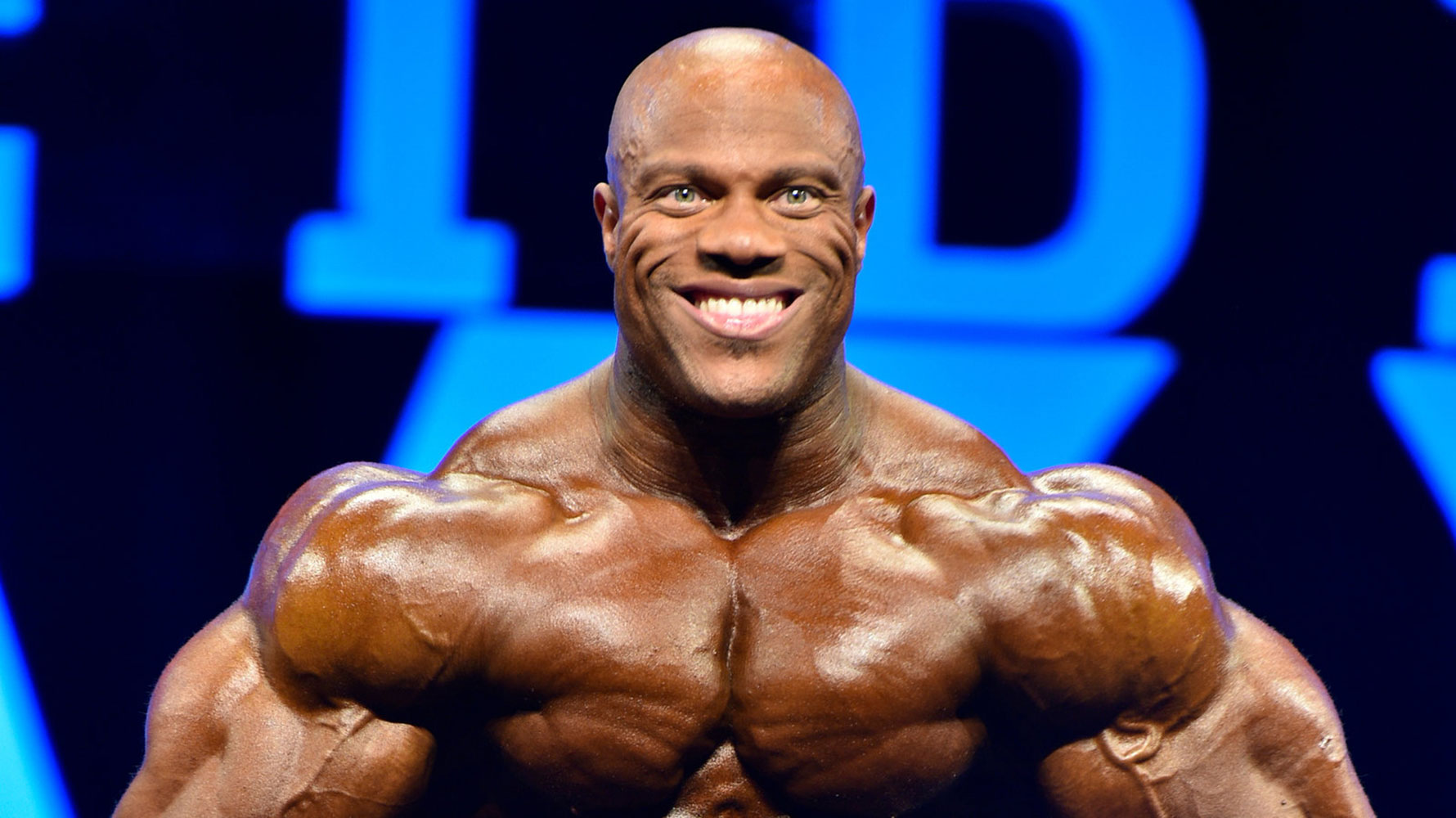 Phil Heath is a professional American bodybuilder, six times and the last winner of the Mr Olympia tournament at the beginning of 2017 (won the competition in 2011, 2012, 2013, 2014, 2015 and 2016). Along with Lee Haney, Ronnie Coleman, Dorian Yates and, of course, Arnold Schwarzenegger, he is one of the five most decorated athletes in bodybuilding history. At the same time, the career of an athlete in bodybuilding is still far from over.
Phil Heath Biography
Phil Heath was born on December 18, 1979 in Seattle (Washington). It is the largest city in the state and the north-west of the country, and one of its key ports. According to experts, the number of residents of the city varies from 612 to 668 thousand people, the area is ≈ 369 square kilometers.
Phil Heath has been fond of sports since childhood: like most boys of his age, he was initially interested in playing disciplines – baseball, American football and basketball. In 1998, the future bodybuilding star entered the University of Denver, where he was immediately enrolled in the men's basketball team (he played as a shooter due to his relatively short stature). Phil proved to be a skillful player for the team and fit perfectly into the team, quickly becoming an indispensable part of it.
In those years, Heath's dream was to play in the NBA Senior Basketball League, where salaries are in the millions and the level of fame is comparable to that of movie stars. This made the guy constantly exercise, improving not only his own skills, but also his body. He was always the last in the training room, throwing balls and pulling iron.
After graduating from university, Phil Heath said goodbye to the hope of becoming a professional basketball player. Although the team of his university occupied high positions (even once won a student tournament), none of its members attracted the attention of breeders.
However, the future titled bodybuilder Phil Heath, in his own words, learned a lot during this time. In particular, thanks to basketball, he became more inflated, more enduring and more disciplined. For the latter, the athlete is especially grateful, because, in his opinion, it is impossible to achieve success in sports without self-control and the ability to listen to the coach.
Phil Heath's bodybuilding career began at the age of 23, when he was working out in one of the Denver gyms. The guy focused on training with iron, and in order to succeed, he turned to specialists for help. They selected the optimal training program for him and consulted the newcomer on sports nutrition. The updated dietary regimen, as the athlete admits, has become the most difficult test for him. If he was already used to constant training, then it was problematic to force himself to eat exclusively according to the menu and schedule (6-7 times a day).
Having adjusted, bodybuilder Phil Heath began preparations for his first official competition, which was the 2003 Northern Colorado State Championship. In order to track progress, the athlete purchased a camera and took pictures of his own muscles every day, which allowed him to make adjustments to the training plan as needed, pumping lagging muscles.
At the tournament, Phil Heath not only won his first title, but also met bodybuilding star Jay Cutler (who would later become his constant mentor and close friend). Cutler was impressed by the physical potential and motivation of the newcomer, which set him apart from the competition.
As time went on, Phil Heath's victories accumulated: over the next three years he did not lose a single tournament in which he took part – in 2003 and 2004 he won the NPC Colorado State, in 2005 – the NPC Junior Nationals and the NPC USA Championships. As a result, he received the coveted status of a professional, and faster than anyone in history. The entire sports world spoke about the achievements of the novice bodybuilder, and bodybuilding fans gave him the nickname "The Gift", which does not need interpretation.
Phil Heath is not slowing down these days. Over the previous 6 years, he also did not suffer a single defeat (the last time he took not 1st place already in 2010, he was 2nd at the "Arnold Classic" and 2 "Mr Olympia"), which made him the most titled bodybuilder of our time and one of the most successful bodybuilding athletes since the inception of the sport.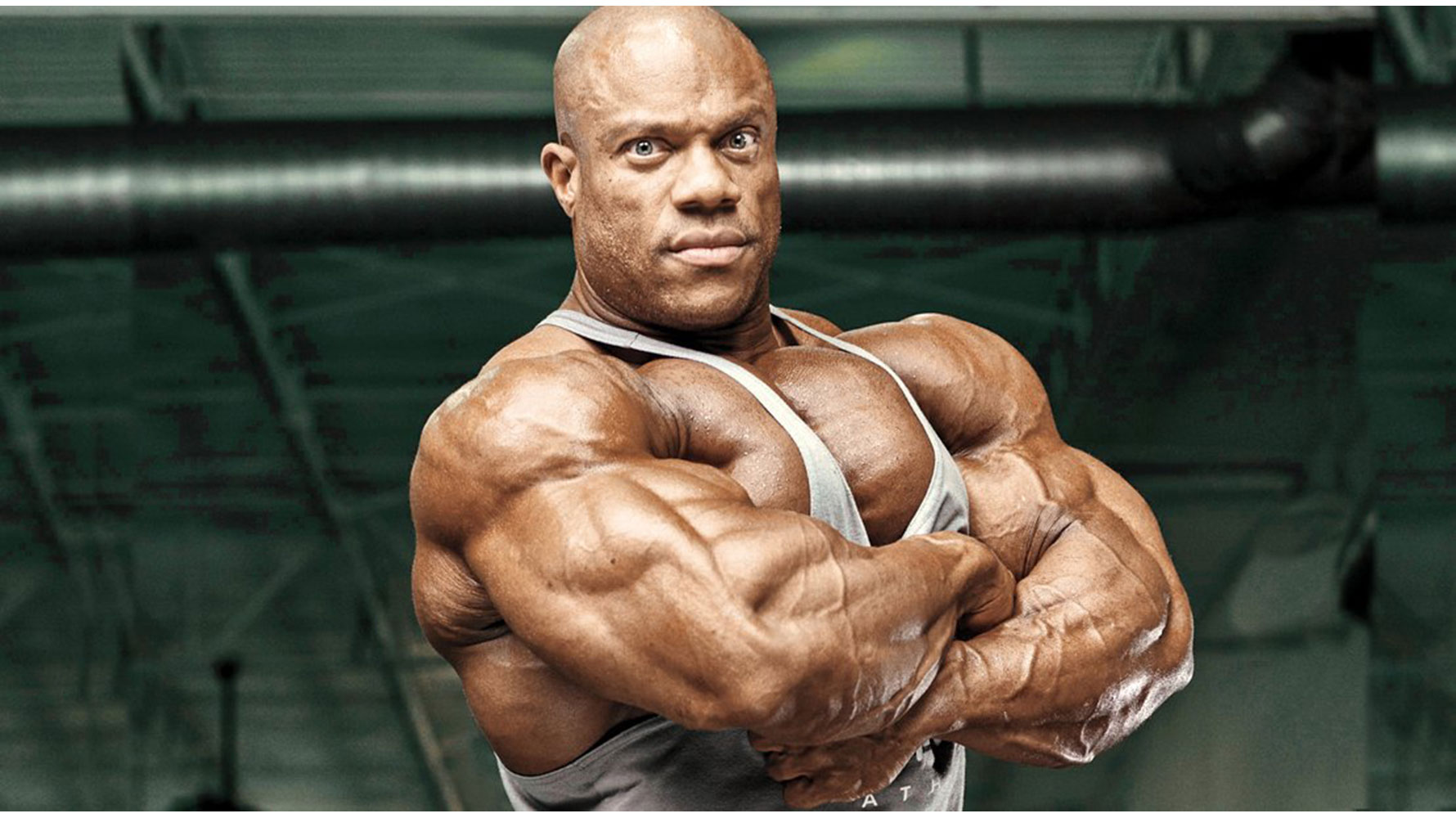 Bodybuilding Titles
Phil Heath has impressive anthropometric data at his peak, putting him on par, if not higher, than most legendary bodybuilders:
175 centimeters tall;
114.3 kilograms of weight;
47 centimeters of neck circumference;
58.4 centimeters of bicep circumference;
140 centimeters chest girth;
73.6 centimeters of waist circumference;
101.2 centimeters hip circumference;
50.8 centimeters of calf circumference.
The impressive size and well-honed muscles are the factors that have helped Phil Heath to win his numerous titles:
1st – Northern Colorado State 2003 (Novice);
1st – NPC Colorado State 2003 (Light-Heavyweight);
1st – NPC Colorado State 2004 (Heavyweight and Overall);
1st – NPC Junior Nationals 2005 (Heavyweight and Overall);
1st – NPC USA Championships 2005 (Heavyweight and Overall);
1st – Colorado Pro Championships 2006;
1st – New York Pro Championship 2006;
1st – IFBB Iron Man 2008;
1st – Mr. Olympia 2011;
1st – Sheru Classic 2011;
1st – Mr. Olympia 2012;
1st – Sheru Classic 2012;
1st – Mr. Olympia 2013;
1st – Arnold Classic Europe 2013;
1st – Mr. Olympia 2014;
1st – Mr. Olympia 2015;
1st – Mr. Olympia 2016.
However, Phil Heath is not only an eminent bodybuilder, but also a successful businessman. He is the owner of the fitness equipment company "Gifted Athletics", which was so named after the athlete's nickname – "The Gift". In addition, in 2014, Heath introduced its own brand of sports nutrition, "Gifted Nutrition" (the brand name also comes from the nickname "The Gift").
Where Phil does not go well is in his personal life. On June 23, 2007, he married the brunette Jennie Laxson, but after a few years the couple divorced (divorced in 2015 due to personal differences; – a typical "excuse" of American families who do not want to reveal the true reason for the divorce in court).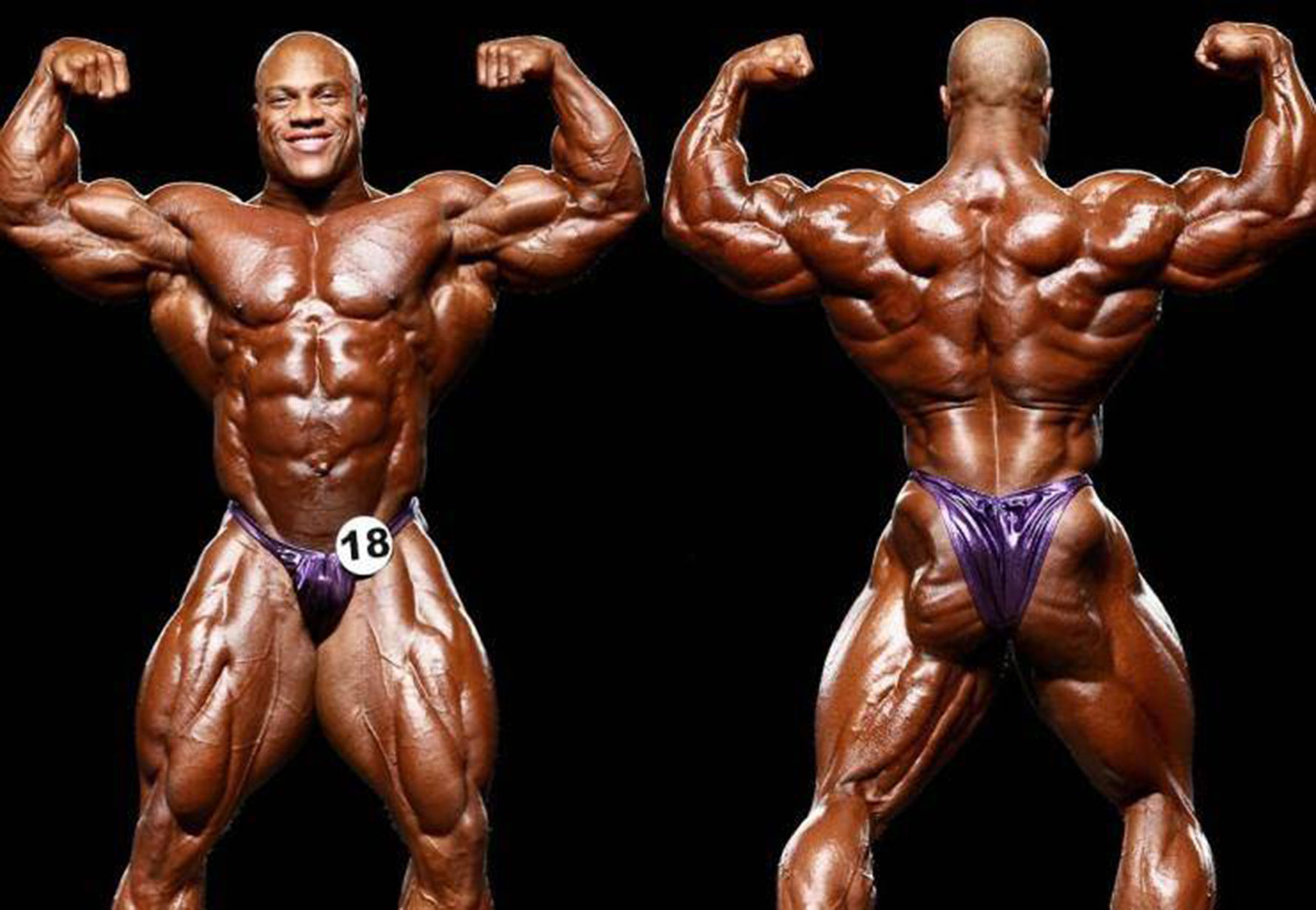 Phil Heath Workout Routine
Phil Heath is not a conservative in training, therefore he regularly adapts and modernizes his own loads. So, his workout program for the 2006 season is significantly different from that for the preparation for Mr Olympia 2010. We will consider the latter as the most relevant of those described in detail by the athlete himself.
So, this Phil Heath workout routine involves a weekly split in which every muscle in the body is worked at least once. On Monday, athlete training takes place with an emphasis on the back (center and bottom) in the morning, calves, abs and biceps in the afternoon: among others, includes lat pulldown wide reverse grip, bent-over barbell row, t-bar row, seated cable row, and weighted hyperextensions.
On Tuesday, Phil Heath's training focuses on chest (top) in the morning, triceps, abs and calves in the afternoon: includes exercises like dumbbell french press, standing calf raise machine, seated calf raise machine, dips on parallel bar or machine.
On Wednesday, Phil Heath's workout focuses on quads in the morning, biceps and hips in the afternoon: includes exercises such as barbell back squat, leg press, hack squats, seated leg extension machine, lying leg extension machine.
Phil Heath's Thursday workout routine is chest (bottom) in the morning, delts, abs and calves in the afternoon: includes exercises such as the standing barbell overhead press, seated dumbbell fly, standing calf raise machine, seated calf raise machine and bent-over calf raise.
On Friday, Phil Heath's training is back (top and center) in the morning, biceps and hips in the afternoon: includes exercises like bent-over barbell row, seated cable row, pull-ups, seated leg extension machine and lying leg extension machine.
Phil Heath Saturday workout is deltas in the morning, calves, abs and traps in the afternoon: includes exercises such as standing dumbbell overhead press, standing dumbbell fly, bent-over dumbbell fly, dumbbell shrugs, seated calf raise machine and a standing calf raise machine.
Sunday – rest.
The average number of sets per exercise is 3-4, less often 5-7, and the number of reps in them varies from 10 to failure, depending on the load. The athlete spent the cardio session up to 2 times a day: 30-40 minutes in the morning and 30-40 minutes in the afternoon. Aerobics was carried out in total up to 6 days (6 x 2 times a day).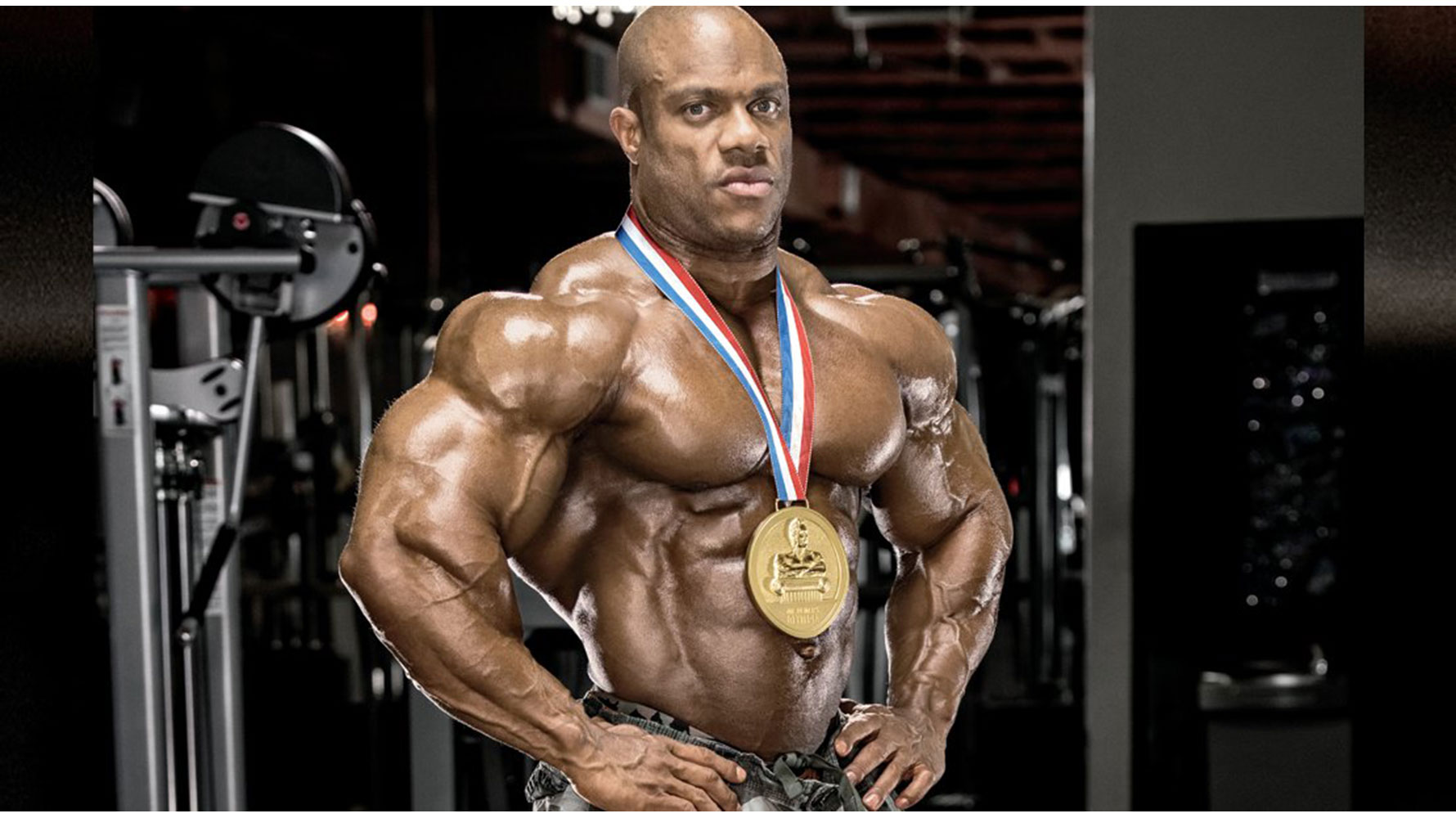 Is Phil Heath on Steroids?
Phil Heath at the beginning of 2020 remains a professional bodybuilder and is not going to end his career in bodybuilding. Therefore, he cannot afford to be frank about steroid cycles. However, nothing prohibits him from speaking out about their benefits in sports.
In his interviews, Phil Heath has repeatedly emphasized that steroids are not the greatest disaster of modern bodybuilding and sports in general, as they are usually presented: "The society is very mistaken in believing that athletes in the farm achieve success only thanks to this very farm. everyone could become Mr Olympia." To skeptics, he always says: "Try it yourself. Do what you want, but you won't get a Pro card either."
In bodybuilding, according to Heath, the main thing is genetics, but persistence and self-control are equally important, allowing you to train to unbearable pain: "Without talent and dedication, no anabolic steroids will make you a champion." It's hard to disagree with these words of Phil.
That is, Phil Heath does not directly admit that he takes steroids, but does so indirectly. And he is not shy. Another question, what kind of farm does the athlete use? The debate on this issue is heated. Some argue that his pharmacological diet consists mainly of time-tested steroid drugs, such as Nandrolone Decanoate, Stanozolol and Sustanon in maximum dosages: ≈ up to 200 mg on the day of the first, 200 mg on the day of the second and 2000 mg per week of the latter. Others say he prefers more modern drugs like HGH (Somatotropin) and GW-1516 (Cardarine).
In the coming years, we are unlikely to know which of them is right. Maybe no one, maybe all at once. Not a single performing athlete, let alone a star like Phil Heath, will reveal his secrets while anabolic secrets are banned. WADA's intimidation policy has driven many professionals to the point that they are afraid to even think, let alone talk about pharmacology.